So last week I had fun with: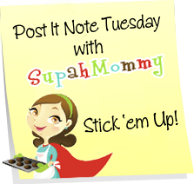 I enjoy all these kind of things. . . But I only want to do them if I can make them fun & interesting - And not so boring. So I'll pick random memes to do on some days - Other days, I won't do anything. I do enjoying them all, though!
This week - I thought I'd change it up, as I liked the topic of this meme and though now was as the best time to share!
(Humm, I don't know why this button is showing up like that)
Today's Topic: How did you tell your DH (or family) you were pregnant?
It's no surprise that I am [impatiently] awaiting the arrival of our first child any day now. . . And I am very excited about it! However - This cute little princess wasn't exactly planned. But that's the chance you take when you have sex - Even if you're taking birth control!
My period didn't show up. . . So I tested. Negative. I took 2 more test over the next 2-3 days, including a digital. "Not pregnant". But my period STILL hadn't showed up - Which isn't right for me. But I thought okay,I just started the new BCP 2 months ago, maybe it threw my body off a bit. I'll wait. My husband was getting ready to deploy in about 3 weeks - So he had leave and we were driving 8 hours up North to his dad & step-moms for a visit. I figured that I will see what happens when on vacation, and if no period when we got home I'll test again.
Longest 10 days ever. I had some signs: Increased tiredness, increased need to pee, & very veiny chest/boobs. But just pushed it to the back of my head. . . He didn't know I was late. At least, I don't think he did. I know that a baby was the last thing he wanted then. . . But we joked about my tiredness and need to pee more often.
We enjoyed our vacation. . . And headed home on July 10th. On the way home - We got word that his deployment was post-poned for the time. We weren't sure why, or how long. But we were excited!
We finally made it home [note to self: don't make that drive on a friday or saturday if possible, more traffic]. And still no period.
I secretly tested that night - And again got the "Not pregnant". At this point, I was convinced I was NOT, in fact, pregnant. But there was a part of me that still thought that maybe I was. My period was 2-3 weeks late at this point and I have NEVER missed a period or been late. Okay, I may have been late once.
The morning of July 11th I got up and, again, secretly took a test. Expecting to see "Not pregnant" again - It was my last test and I figured "What the heck, I'll just use it up". But there it was. . . Nice and clear.
PREGNANT
I about died. I have wanted NOTHING more then to be a mommy my entire life - Seriously. Kids are my passion. But only a little part of me was excited. And instantly I thought oh gosh - DH is NOT gonna be happy.
It was about 8am and we were enjoying our last few days of DH's leave before he had to go back to work. In fact - He was due to deploy on July 16th, so we were enjoying our last days together for at least 6 months - And cuddling is our all time favorite thing! I walked into the room and sat on the bed. . .
I took a pregnancy test.
And?
You're not going to be happy. . .
You're right.
I expected it - But it still shattered my heart. He then got up and started cleaning the living room like a mad man - Quiet literally. This boy does not CLEAN. He'll pick up his stuff, and occasionally help pick up the house. . . But never cleans. Unless he's upset or pissed.
-sighs-
We didn't say a whole lot to each other. I understood why he was upset - I can't say I was exactly thrilled myself. Things have been rough with us and, honestly, they still are. But we're committed to making it work and keeping our family together & will do all that we can before we tear the family apart. And money. . . Oy money. That'll always be a stress factor.
July 13th I went to the hospital to have it confirmed & to get up my first appointment.
He still wasn't thrilled. . . And it took him a good while to come around. As time went on - I got excited, but I felt like I couldn't talk to my husband about it and that KILLED me. I felt like I couldn't share my excitement.
He deployed on July 31st. And I had my 1st appointment on August 27th.I would talk about a few things pregnancy/baby related between when we found out & my appointment, but I was too scared of what his reaction may be if I talked more about it with him.
I have an awesome Midwife & I was able to record the babies heart beat at that first appointment on my phone & email it to him (I love my BB) as well as some of the ultrasound. And I sent him pictures.
The reasponse I got from him?
OMG baby - Those made my MONTH. You don't know how happy seeing those pictures made me.
*wipes sweat from forehead*
Finally. He was excited. And he showed it. Finally. He came to terms. Of course - I was amazed and asked him "Are you serious or are you just saying that to make me happy?!" He was serious.
And now? Psh - Now he already has her very spoiled and loves her to pieces!
We'll make it work. Everything always works out - And I know it will now. Somehow. Someway. It will work.
Though I would've never gotten through this without the love & support of my family.